SV2 Universal Flares (a pair)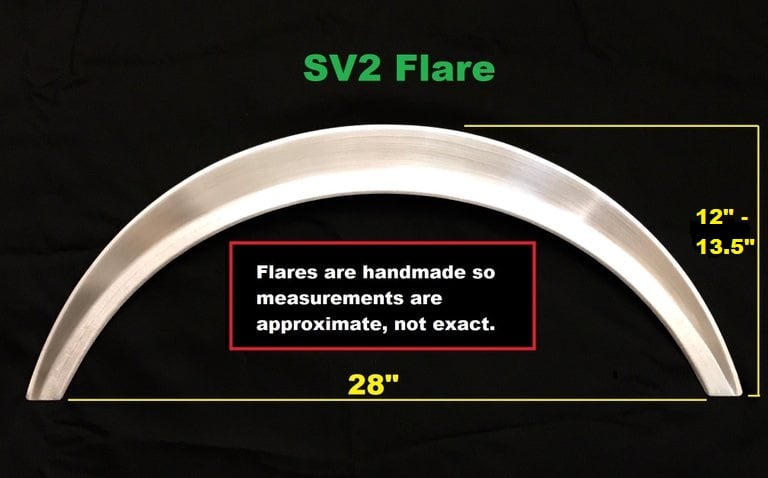 THIS PRODUCT IS HANDCRAFTED WHEN YOU PLACE YOUR ORDER.
*If you are ordering from outside of the United States and unable to place your order through this website, please contact us to assist you with placing your order: [email protected]. Also, please be aware that you are responsible for the duties & taxes that your country's Customs' charges once the package arrives to you.
Our SV2 Universal Flares are hand-crafted out of 20 gauge steel and are sold in pairs (2 flares). These flares are detailed with a nice, even 1/2" lip and are available in 3 sizes:
.75"
1.5"
2"
These are sold in pairs so you will receive 2 flares when you place an order.
These flares are handmade so measurements are approximate, not exact.
*** PLEASE READ: For orders placed during a SALE (already reduced pricing, using a discount code, etc), the production time will be 28 days (not our usual 21 days). Due to the large number of orders we receive, it will take us time to handmake each flare.
*We do not carry these flares on hand and do not have them in stock. These flares are Made-To-Order. Once you put in your order and PayPal confirms receipt of your payment, production will start on your order. It typically takes up to 21 days to handcraft your product. Once your product is complete, you will receive an email notifying you that your order is ready for shipment. Please allow up to 14 days for delivery from the date your order was shipped. In total, your order could take up to 35 days (21 days to handcraft your product + 14 day shipping) to receive from the date you purchased. If you have any questions, please email us at [email protected].
**Disclaimer: Installation of universal products require fitting and welding. Please review the specs sheet and product description to ensure that this product is right for your vehicle. It is the customer's responsibility to make sure that the purchased product is compatible with the customer's vehicle. It is also the responsibility of the customer to make sure they install any products they purchase from Ulterior Motives properly. Once your purchase is made, Ulterior Motives is released of any liability concerning the product you purchased. Customers are fully responsible for the modifications they make to their vehicle. It is the responsibility of the customer to make sure installation/use of Ulterior Motives' parts do not cause safety issues with the vehicle or driving. Ulterior Motives parts are made for "Off Road" use only. Ulterior Motives assumes no responsibility or liability for damages resulting from the installation of parts. Your purchase indicates you agree with this Disclaimer.
See our Return/Exchange Policy here:
https://ulteriormotives.bigcartel.com/return-exchange-policy